March 22, 2023 by AgentImage
The Richard Dorman 2 House in Sherman Oaks, California, was restored by Chris Salay Design. Chris not only restored the home, but also lived in the home for a number of years. We chatted with Chris to find out more about the home and his experience living in a midcentury home.
What do you know about the original architect who designed the house?
This home was designed by Richard Dorman as part of the Sherman Oaks Estates mid century development which included architects Ed Fickett, William Krisel and more, and was built by Elwain Steinkamp of the Modern Trend Construction Company.
I was able to watch an interesting lecture with Richard Dorman and John Lautner through Sci Arc as part of my research before starting this project, and found some good photo references through Getty.
Dorman became a very popular architect in Los Angeles that not only worked with developers in the area, he designed some single family commissions nearby, as well as in Bel Air and Trousdale. Some of his commercial buildings can also be found throughout Los Angeles.
What was the house like previously?
This home suffered from previous owners attempts to update and change the home to suit their tastes. When we purchased it, the home had been painted a glossy forest green inside and out, had 80's carpeting and features like the fireplace were covered with traditional woodwork.
During previous remodels, exterior features were removed, beams were cut back, and pipes had been run along the entire exterior. Luckily most of the footprint was intact.
What midcentury influences did you want to include?
Although most finishes were long gone when we purchased the home, it was important to choose materials and styles that Dorman himself chose in other homes and incorporate them into the remodel. We chose walnut for cabinetry and terrazzo for flooring which Dorman used in other homes of his during the period.
Careful demolition uncovered evidence of walls and the original layout so we were able to restore things like the walnut entry partition and the master bath divider. The home was open to the street so we used some clues from the existing structure to design screening and create an indoor / outdoor garden
which was a common feature of a Dorman design.
What were your challenges for this project?
The biggest challenge with a home that had been under-appreciated and neglected like this was determining what was originally there and why. When items are missing there are some clues, but it's necessary to sometimes determine the architect's original intent in order to recreate the home's features. My own training as an architect helps me to look at things through Dorman's eyes and hopefully recreate his vision.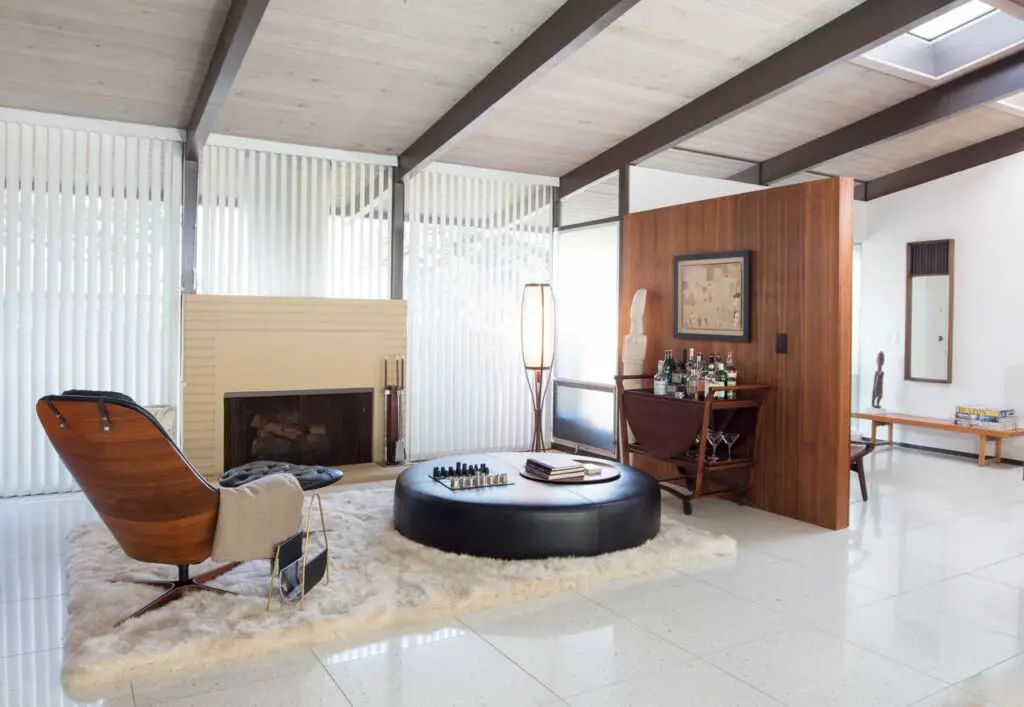 What are the advantages/struggles of living in a midcentury house?
The greatest part of living in a mid century home in southern California is the ability to take advantage of the climate and lifestyle. More than just being open to the outdoors, a successful midcentury home
enhances that experience by at times being seamless with the environment, as well as providing it's own experience when you're within it.
What's your favourite part of the house and why?
The most challenging part to restore and also the most important feature of the home was the high ceilings, which pitched towards the steel and aluminum sliding doors. The beams were held up by almost
invisible inch and a half steel posts that had been integrated in the concrete and the beams, so that when the doors were open, the living room could bring as much outdoors in as possible. The sofa in the living room was oriented towards the acre of land outdoors and when the doors are wide open, it's spectacular.
Photos by Blake Worthington